UG: Hi Nick!
Nick: Greetings and salutations form the sacred Island of Malta – Europe.

UG: First of all, could you try to give us a brief introduction about yourself and what you consider your "mission" in Malta?
Nick: Hi Grave, thank you so much for having me doing this interview and interest in the Maltese Metal Music scene. Basically, I grew up in a Rock music background environment at home thanks to my father who was a huge Beatles and Rolling Stones fan... moreover, through him I have discovered several other artists such as Blondie, The Police, Santana & Black Sabbath among others in my early years of life! Both of my parents used to also work in a local nightclub close to where I grew up and at this club used to do Las Vegas style shows and booked 70's/ 80's bands which I got to see when I was still in my early teens!
Moving forward I have had the opportunity to see several local bands playing live plus I was already heavily listening to Iron Maiden, Deep Purple, Black Sabbath and Ozzy Osbourne. In the early 90's I got introduced to the first underground bands through cassette trading! I am the proud owner of several demos from bands who are now heavy weights in the Metal Industry. (Btw still have the cassette tapes in my collection). From 1994 onwards I was attending underground Metal gigs nearly on a weekend basis. The local Metal scene was always vibrant with great bands!
In 1999 I have started organizing my very first gigs and later festivals which I have been organizing until 2005. From then on, I have turned my attention to help local bands to break through the international scene. My background is mainly in management but wore loads of different hats and was hands on every aspect of the music Industry from scouting, developing, managing, organising, and promoting bands. I tried hard the best way I knew!
My main mission is to sign local bands to major labels and have them booked on tours and festivals. This is not an easy task as I hail from the 2nd smallest country in Europe! Nowadays, I do also help and represent artists/bands from several other countries apart from the local ones. Labels & promoters please check us out *laughs*
UG: What a vita! I don't even know where to start! Maybe we should begin with the early days. When I recall it right, you told me that Malta was (and still is) quite a conservative and religious country. What hardships can you remember from the "early "days concerning that topic?
Nick: Back in the 80's /90's we had a couple of music shops (apart from the bootleg stalls in the markets) stocking up mainly on mainstream Rock & Metal music but when it came to the underground scene I had to travel or ask people around who's going abroad in order to get me both merch & music.
Yes, Malta is a very Catholic Island with two main major parties bowing to all church orders! Back in the day I believe that the church used to pull all strings and thus several items were banned from Malta such as magazines, books and certain music. If it had the mark of the beast, it was strictly forbidden and illegal. I remember seeing the first issues of the Playboy magazine introduced in Malta for the first time in the early 2000's.
All underground Metal music material was confiscated and burned prior to the Y2K. I have lost several merch items, fanzines and Metal music VHS /Cassette tapes during those days! A simple SEPULTURA T-shirt would take 3 months to arrive and get released from the post office! ... but we always found a way to get our underground material one way or another! We deployed several tricks that nowadays are unheard of *laughs* Today, the market is totally open!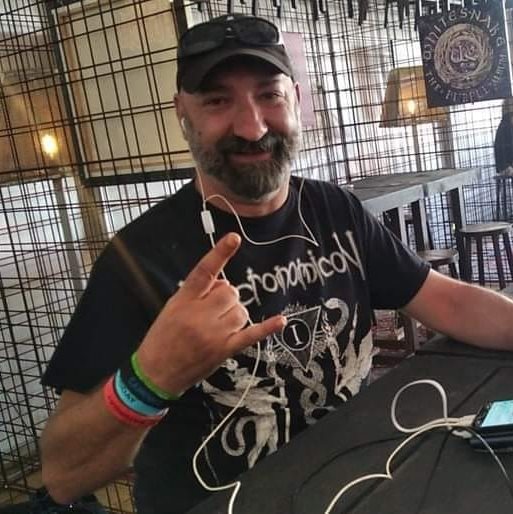 UG: Now I am curious! Tell us - of course highly hypothetical and not that you did anything of this yourself - how would! someone! smuggle contraband items into a repressive country? This wisdom might come in handy in the future *laughs*
Nick: Well as mentioned there were several tricks used for both the post and airport customs. Let's say if one travels to get merch (ideally you need to travel during the wintertime) you had to wear all t-shirts on top of each other and hide them well under your Jacket. Leather was also an item that was highly taxed so one would buy a pair of leather pants, waist coat and a Jacket and wear them as used items in order to go through the airport / seaport customs. High tax was another issue for any on the imported items!
Also, you had to get family members involved in wearing merch! It's funny nowadays to think of a 70-year-old grandma wearing a 'Metal up your ass' Metallica T-shirt passing through customs!
Postage wise one used to send the vhs/ cassette tapes without sleeves and have the very first song replaced with some disco music - sleeves will be then sent in a birthday card or something like that at a later stage. We had ingenious tricks at that time which were very creative. LP's & singles used to be covered with brown paper and then removed at a later stage. They were hectic times but exciting times as well! Did I ever mentioned of when I got arrested for wearing a DEICIDE t-shirt? Offending public morals in the name of the beast? *laughs*

UG: You can't even imagine that nowadays, or at least in the "free" world. I mean there are still countries where you would put your live at risk playing or supporting metal, such as Iran, Syria and other countries. So I guess we should be glad that the situation is way better now and that we can listen to / promote and even organize whatever we want. Let's jump to today, what was the situation of "metal in Malta" just before Covid?
Nick: So true, we are grateful with the advancements we have today although the digital world took the music industry (since 2004) to a different level. I'm an old schooler so I'd still support the bands I love by buying their merch and music on CD.
Unfortunately, there are still several countries in the developing world where people who listen to Heavy Metal in general are persecuted. This year I was attending the 'INFERNO MUSIC CONFERENCE' on-line where I have witnessed first-hand testimonials from Metal Heads being persecuted and facing hefty prison or death sentences in their country of origin! There was even the lawyer of 'Nergal' (Behemoth) talking about his persecution from the country regards his views on Christianity! …and that's happening today in Poland, Europe!
Back to Malta, down here we have a very tight knit healthy Metal community quite small but big in its heart and talent! Currently the scene spurs some 45 local Heavy Metal bands from Black to Death Metal to Thrash to Sludge / Doom Metal as well as Death Core to Nu Metal. Some bands that you may heard of and that they had toured internationally are 'BEHEADED', 'FORSAKEN' and 'MARTYRIUM'. Apart from the local bands we do have several major acts visiting us on a yearly basis. The last international bands were 'DREAM THEATHER', 'SABATON', 'DEE SNIDER', among several others.
The Maltese Metal scene has all it takes to have several of our bands signed to major labels and booked with the major festivals! Unfortunately, we are not located next to a major city to get more attention from the industry decision makers!
It is quite disappointing to have major festivals celebrating their 20th /25th / 30th anniversary and known to book bands from all over the world except Malta! Same situation with the major labels! I do really hope that with this article more industry experts will check us out to learn more about our endeavours!
UG: So - we got the history, we got the bands, let's talk "people". Back in Estonia for example, we got a small but dedicated scene, which is fuelled by just a bunch of people who fuel the whole thing. Sometimes several bands at once and especially a few drummers playing in all the projects. Is it the same in Malta?
Nick: As I have mentioned, Malta has a very tight Metal scene, and everybody knows everyone - The same applies for the band members down here. We do have a good number of talented artists that are members of other bands that includes vocalists, bassists, guitar players and drummers. We do also have band members who have side projects with foreign bands and solo projects. I would need a whole page by itself to list them all here 🙂
UG: I see! Would you say there is a certain style around Malta that you would call "Maltese" - or let's say something that is rather unique compared to other countries?
Nick: Each band has its own identity and genre with its own Maltese twist! Most bands do get inspired from the traditional Metal Music which is widely known. A couple of good examples are the artist 'SAHHAR' which is basically Black Metal sung in the Maltese language as well as the band 'XTRUPPAW' who are a local Heavy Metal / Rock based outfit singing about the Maltese culture and local characters in the mother language.
UG: Before we turn to your own engagement again, could you give our readers like another top-5 recommendations from your perspective to get those vibes?
Nick: Here are some of the best local bands that are very well known internationally:
FORSAKEN: Epic Doom Metal
BEHEADED: Death Metal
MARTYRIUM: Symphonic Black Metal
ABYSMAL TORMENT: Death Metal
VICTIMS of CREATION: Death Doom Metal
THY LEGION: Black Death Metal
WEEPING SILENCE: Gothic Doom / Melodic Metal
VIPER SOUP COMPLEX: Progressive /Avant Garde Metal
BOUND to PREVAIL: Death Metal
LORD ADDER: Heavy Metal
… the above are just the tip of the iceberg. We are blessed to have several other Underground / Metal bands who deserve the right attention. We are quite densely populated when it comes to Underground Metal bands! You can find out more about the local bands via this Spotify LINK:
UG: Which perfectly leads us back to your Management and Booking agency that host some of those bands mentioned. Besides pushing those bands forward, you also said you organized some festivals and concerts back in the day / until around 2005. What's the situation like at the moment, pre-Covid and now? And could you imagine to start doing own shows again?
Nick: So, the mentioned bands I do currently represent are 'FORSAKEN' & 'MARTYRIUM' among the 17 bands represented with my roster which can be found here: www.nickgrima.com/roster. I am also a huge fan of all the Maltese bands and have their music / merch material in my personal library.
Back in the day I used to organize several gigs and festivals which I stopped during the introduction of the digital era. The market became so unstable, and people were after other alternatives, so it was not feasible for me to organise events anymore! Some of the festivals were 'GRIM REAPER FESTIVAL', 'METAL at LUST' and 'LUNACY' apart from several gigs I have done in the past under the name of 'RITUALS', 'AMBUSH' & 'PULSE'. During the same period, I used to publish the 'FORBIDDEN RITE' mini magazine.
Moving forward, Malta had produced several other great festivals hosting international Heavy Metal bands such as the 'Malta Doom Festival', 'Metal Over Malta', 'SIN FEST' & 'XTREAM Metal Assault' to name a few! An honourable mention goes to 'DARK MALTA' which is in its third edition of the festival and 'ROCK THE SOUTH' which is mostly an Alternative Rock Festival. Prior to COVID 19 we had gigs on a weekly basis plus several international bands visiting the Island. Hopefully the scene will re-start organising very soon! Currently, I am much more invested in my management / booking agency into promoting my represented bands with international festivals, but as the saying goes - never say never!
Now we are still under the COVID 19 restrictions (gigs must have only 100 people) but we do have an excellent Metal club where all gigs are done – 'THE GARAGE' and a Rock Club which is called 'KICKSTART' - Check them out once in Malta!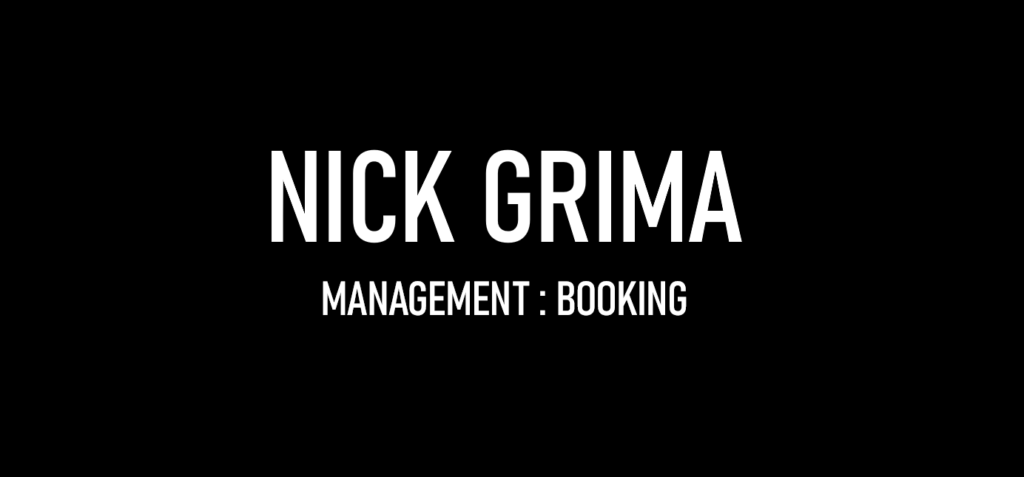 UG: That I shall do! Also, your roster seems to be quite diverse when it comes to genre, how do you choose the bands for your own agency?
Nick: Well basically, I do work with bands that I love and that are heavily committed to the music and the industry itself. Most bands are mainly introduced to me by friends in the industry while some of the bands I know them since my early teens! Each band has its own unique talent, identity, and story to tell. Currently my roster comprises of 17 talent bands covering genres from Death Metal to Melodic Death Metal to Black Metal, Doom Metal to Prog Metal to Metal Core and I also have an excellent Hard Rock Band from the sister Island of Malta - Gozo.
Together we work hard to move forward in the music industry! I am privileged and honoured to be representing the following talented bands:
Moonshade / Portugal : Melodic Death Metal (Art Gates Records)
Black Therapy / Italy : Melodic Death Metal (Black Lion Records)
Re-Armed / Finland : Melodic Death Metal (Black Lion Records)
Æolian / Spain : Melodic Death Metal (Black Lion Records)
EphemeraL / Greece : Melodic Death Metal (Independent)
MartYriuM / Malta : Death Black Metal (Art Gates Records)
Necronomicon / Canada : Blackened Death Metal (Season of Mist)
Two Face Sinner / Peru : Death Black Metal (Non Serviam Records)
Saħħar / Malta : Ruinous Black Metal (Independent)
Soothsayer / Ireland : Sludge / Doom Metal (Transcending Obscurity Records)
Align The Tide / Malta: Active Nu Metal (Cleopatra Records)
White Walls / Romania : Dynamic Prog Metal (Independent)
Forsaken / Malta : Epic Doom Metal (Mighty Music)
Jet Jaguar / Mexico : Nostalgic Heavy Metal (Pride & Joy Music)
Upper Lip / Malta : Nostalgic Heavy Metal (Independent)
Tortharry / Czech Republic : Death Metal (MetalGate)
Lone Survivors / France: (Independent)
UG: Impressive! What are your next steps with your agency?
Nick: Mainly, the main aim with the agency is to keep on promoting all represented artists, to have them featured with various media outlets with the help of PR agents and possible tour / festivals bookings all over Europe. Moreover, I do help with new releases, merch, and overall day to day band management. To learn more about my agency please visit:
Twitter, Spotify, Instagram, Linktree, Facebook, Website
UG: So basically, from the scene, to the scene. A noble goal *laughs* It's already time for our traditional and last question: "Imagine you could meet yourself with around 20 years with the knowledge of today - what advice would you give young "nick"?
Nick: I would definitely give myself the advice to stay in the US (Florida where I used to live for some time back in the 90's) or move to a major European city where all the action happens. I was given this advice back in the day but shrugged it off as nonsense! Destiny took its course and here I am years later!
UG: Action is where dedicated people are! Thank you for your insights and I hope there will be a meeting in Malta to get first-hand impressions.
Nick: Thank you so much Grave – looking very forward to host you in Malta in the nearby future!