The organizers behind the event once again managed to assemble a finely distilled squad of bands, including Scandinavian acts such as Marduk, Tsjuder, and Impaled Nazarene on day one, and special guests like DSBM classic outfits Austere and Thy Light, as well as Alcest from France, on day two.
Just one day before the event, Endstille, originally scheduled for the Saturday lineup, announced to their fans and the audience that they would not be able to attend due to most personal reasons: The drummer Mayhemic Destructor's son was recently diagnosed with leukemia, and he needed to be with his family. Without hesitation, the organizers rearranged the running order, pushing back the stage times of all other acts by one hour, as there was no last-minute replacement.
Day 1
Upon entering the venue, one couldn't help but be glad that Thronefest took place inside the Kubox and wasn't an open-air event. The temperatures during this Pentecost weekend at the end of May hinted at the arrival of the relentless summer. The climate inside the hall was highly comfortable, and for those in need of some fresh air or wanting to enjoy the sun, the parking area, which some attendees turned into an improvised campground, and the area in front of the venue's entrance provided space for relaxation. The prices for drinks and food were reasonable considering the rising costs across Europe, although not cheap. Some attendees found it inconvenient that they had to bring cash since the venue's card system crashed, but the organizers provided information on where to find ATMs in town.
Upon entering the halls with various merchandise stalls, including Immortal Frost Productions and Evil Spell Records, what struck us the most was the fact that people seemed to be spending a significant amount of money, demonstrating a level of enthusiasm that hadn't been seen at events of this magnitude in the last two years. After purchasing tokens for drinks and food, we prepared for this year's opening ensemble.
Kicking off Thronefest 2023 in Kuurne were local troops Demonizer, who hail from neighboring cities. They delivered an explosive performance right from the start, showcasing their Black/Thrash blend with relentless riffs and high-speed sounds. Having been on hold for almost 15 years, the band's return to the stage came just after the pandemic. The fact that most of the lead vocals were handled by drummer Hennix, who was somewhat obscured behind his drum set, was initially a bit perplexing but became apparent as their signature style. Demonizer's latest album dates back to 2008, but they recently released their first new song in a long time called "1979," which received significant attention. Their standout track, however, was the title track from 2005's "The Essence of War." With their 30-minute ferocious performance, Demonizer presented themselves as true firestarters.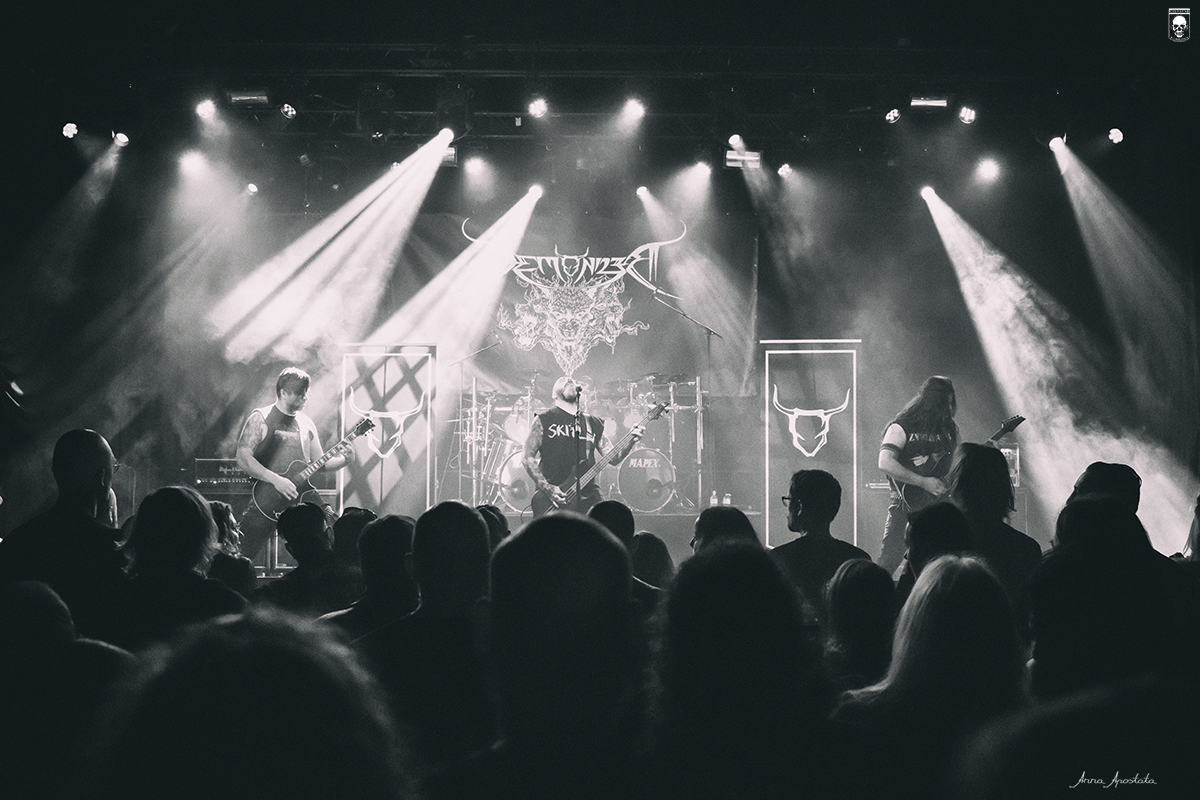 Demonizer / Anna Apostata
Next on stage were the German plaguebringers Streams of Blood, who brought an aura of darkness to the Kubox and delivered a bone-chilling performance. Their feverish Black Metal sounds enveloped the venue, creating an eerie and haunting atmosphere. With their strong guitar work and song structures and lead singer Thymos' intense stage presence, Streams of Blood transported the audience right into the pits of hell. Wearing his "Your mother sucks cocks in hell"-shirt he served for a fiendishly menacing cult performance, spurring on all Black Metal enthusiasts present, especially with songs like "Nychts" from their 2020 album "Erløsung" - they then closed with "Fullmoon Era" from their debut album "The Descent To The Source Of Disorder" from 2011. This was a furious one!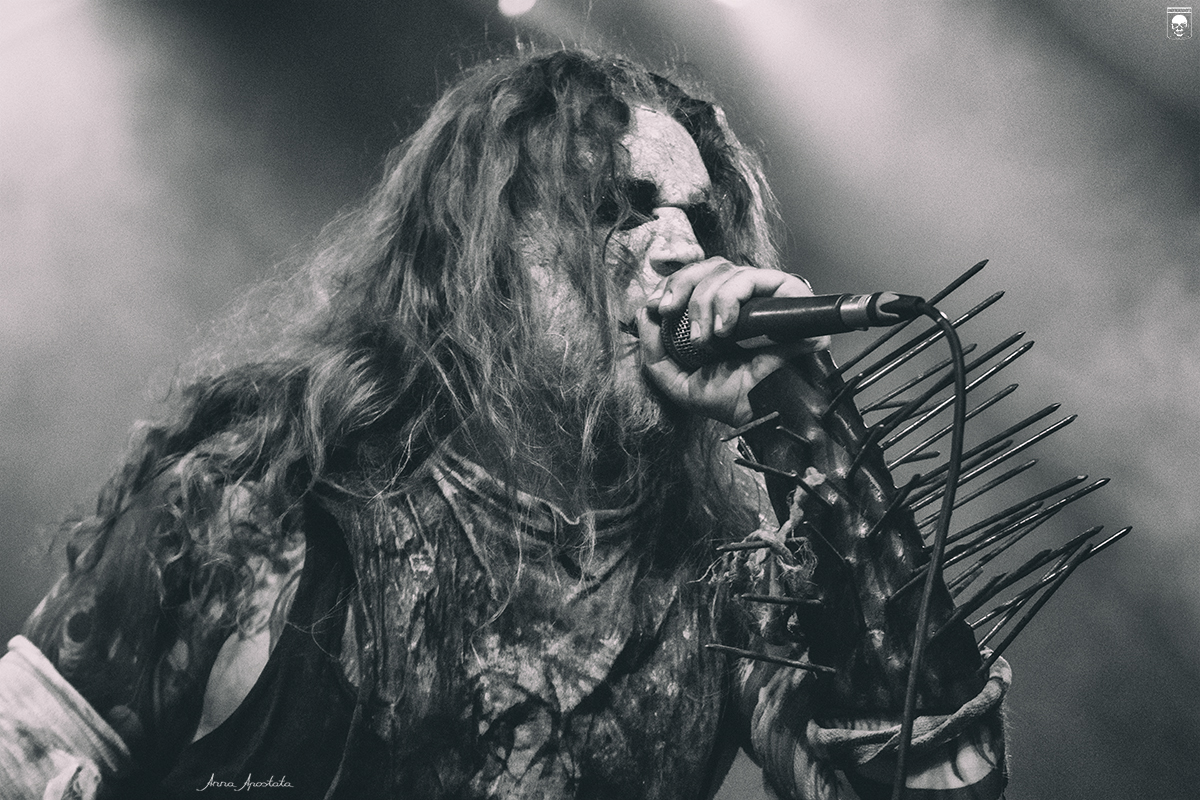 Streams of Blood / Anna Apostata
Next in line were Heinous, also from Belgium like the opening band. The bloodcurdling sounds of their satanic occult manifesto engulfed Thronefest, leaving a trail of devastation in their wake. Hailing from an undisclosed location, this mysterious Blackened Death Metal/Black'n'Roll act, part of the division of Nuclear War Now! Productions, unleashed a sonic assault that shook the foundations of the venue. With relentless blast beats, dissonant riffs, and guttural vocals, Heinous delivered a relentless onslaught of brutality, predominantly showcasing last year's full-length debut "Ritual, Blood, and Mysterious Dawn." However, they also incorporated some pieces from their early demos and EPs, with "Unholy Pyre" standing out in particular. The band's sinister aura, coupled with the commanding stage presence of lead singer P.F. Hraesveig, added to the overall intensity of their performance. Hraesveig's paroles like "We are Heinous - and we hate you" left the audience in a state of awe and terror, with clouds of incense lingering in the air, yet strangely with smiles on their faces.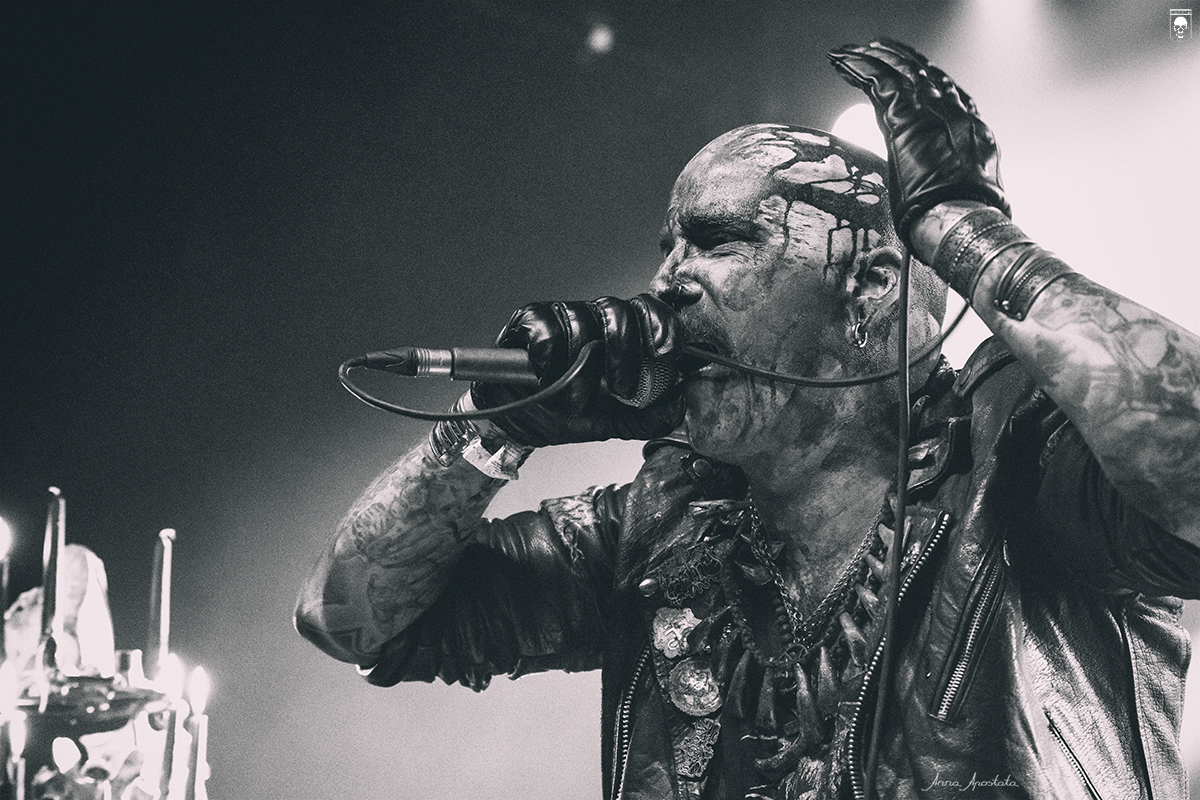 Merrimack from France was the first band whose performance exhibited some difficulties with the overall sound quality of the event. Unfortunately, this problem became even more prominent on day 2, and it is important to mention it when discussing the event and acknowledging the frustration of some people in the crowd. Mistakes and problems can always occur, and if we are completely honest with ourselves, we must admit that some imperfections in extreme genres can contribute to the authenticity and rawness of the live experience.
The group from the French capital of Paris has been in existence since the early '90s but underwent several lineup changes until 2010, when the current ensemble was formed. The eccentric (and some may say crazy) lead singer Vestal took over the vocals, and guitarist A.K. and drummer Blastum joined at that time, shaping the weirdly fascinating sound of Merrimack today. While their performance provided a solid and strong entry in this year's edition of Thronefest, they didn't manage to stand out significantly among the other bands. Although their technical proficiency was flawless, it was overshadowed by Vestal's off-putting and peculiar stage movements, which proved to be distracting. His restless wandering, putting his fist into his mouth, and whirling his hands and arms in a strange manner detracted from the overall experience. Furthermore, as mentioned earlier, the sound quality was inconsistent, with some songs sounding more impactful and memorable while others, particularly towards the end, sounded muddy and dull at best. Our team decided to give Merrimack another chance to convince us at a future event.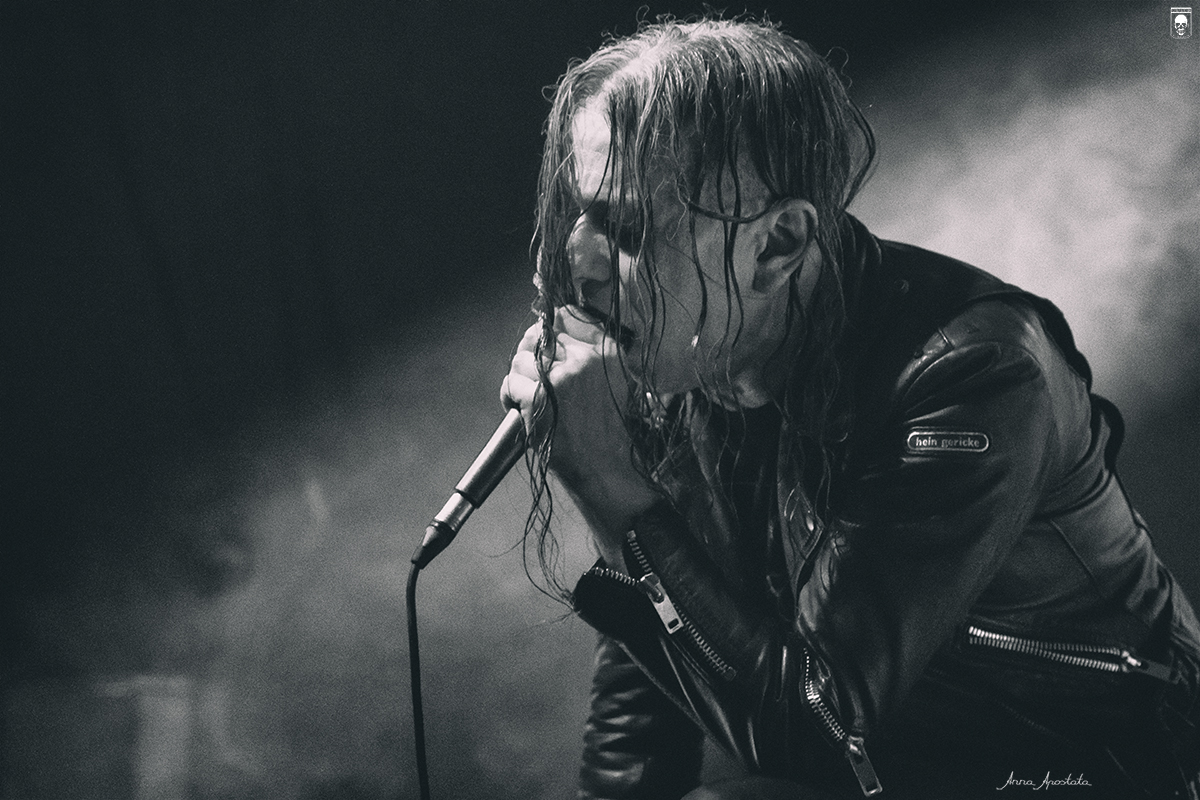 Merrimack / Anna Apostata
After Merrimack one of the first Scandinavian acts to take the stage was Nordjevel from Norway. They not only showcased puristic Black Metal aesthetics in their imagery and soundscapes but also took the audience by storm. The band, whose members boast experience from other notable bands like Doedsvangr, Horde of Hel, Myrkskog and Nattverd presented themselves as true Norwegian Black Metal veterans, despite forming only in 2015 (Drummer Dominator has also worked with names like 1349 and Dark Funeral). The band quickly amassed a devoted fanbase, with some voices in the crowd proclaiming Nordjevel as one of the highlights, if not the highlight, of the first day.
With tracks like "Djevelen i nord" from their self-titled debut album and newer offerings like "Of Rats and Men," they displayed a unique drive and strong songwriting skills. They even managed to incite the first crowdsurfers of the day during their performance. However, when stripped of their Norwegian Black Metal imagery, only remnants of their own distinct style remain. While Nordjevel successfully captures the essence of '90s-inspired Black Metal and the old Dimmu Borgir spirit, their performance was ultimately a rock-solid hit, even though, to our team, the band seems to lack features that make them stand out.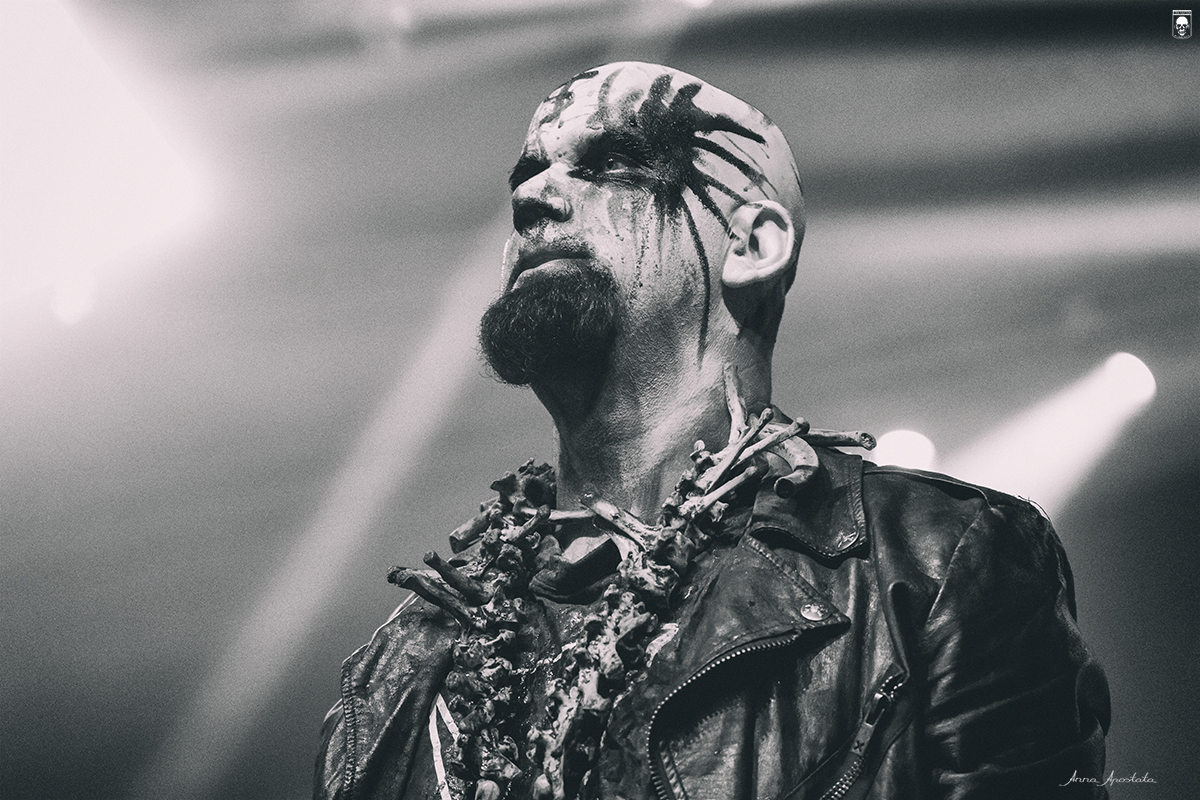 Nordjevel / Anna Apostata
The first "kind of" headliner, controverse Impaled Nazarene from Finland, took the stage next, presenting their high-speed mastication and taking the audience on a journey through their entire discography. The problem, once again, was the sound. The high-pitched vocals of lead singer Mika Luttinen, alias Slutti666, were so distorted that he could have sung anything, and you would not have been able to guess which song the band was playing. At times, the guitars were barely audible, leading the band to shake their heads and make some WTF gestures in the direction of the sound crew. It was evident that something was wrong. Despite the sound issues, Impaled Nazarene delivered what they have set out to do since the early '90s – a punkish Black Metal escalation with heavily stirring and intoxicating rhythms that invite growling along. Their intentionally chaotic performance created an atmosphere for moshpits and allowed the audience to be carried away.
What irritated our team, however, was the static performance of the musicians on stage. Luttinen basically held onto his microphone with both hands, smiled at the audience, cracked some jokes between songs, and aimlessly wandered around, creating a glaring contrast to the furious music. Watching Impaled Nazarene on stage in 2023 compelled the thought that this Finnish cult classic has sadly passed its zenith long ago, even though pieces like "QUASB," "Ghettoblaster," or "Total War-Winter War" from "Suomi Finland Perkele" didn't fail to captivate the crowd in some form.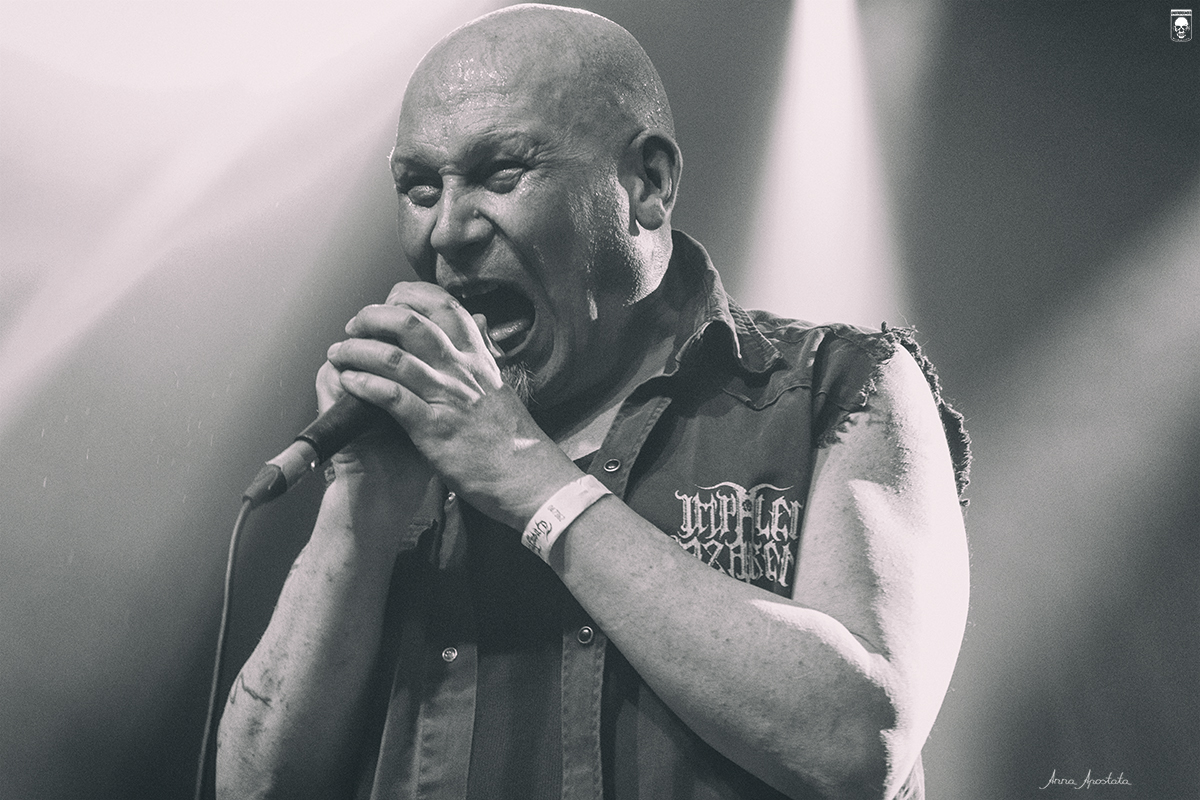 Impaled Nazarene / Anna Apostata
Next up were the highly anticipated Tsjuder from Norway. Their live appearance at Thronefest was a showcase of True Norwegian Black Metal, solidifying why there is such a huge cult following and hype surrounding the band. With a setlist that delved into their extensive discography, Tsjuder opened with "The Daemon Gate" and continued with tracks like "Helvete" and "Primeval Fear," unleashing their raw and unrelenting blackened fury. However, they remained rather static in their mid-tempo wrath.
While the performance undoubtedly matched the expectations of their dedicated fans, and while hearing the first demonic precursor of their upcoming album "Helvegr," "Iron Beast," live for the first time was a highlight at the end of the set, not everyone was convinced of Tsjuder's Black Metal prowess. They displayed their mastery of Norwegian coldness and raw energy, ensuring an intense experience for those immersed in their music. To others, it only served as a lead-up to what was to come with the finishing act of day 1...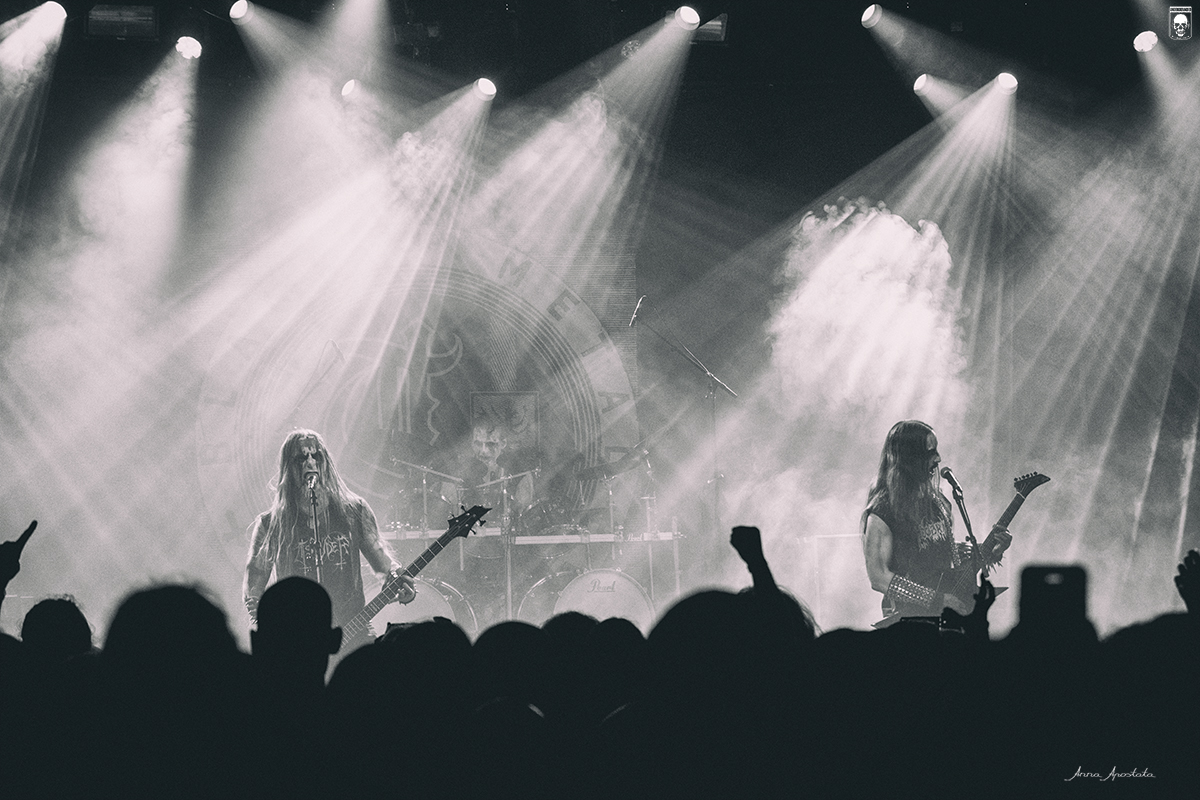 Soon after learning that the mighty Swedish instance of Marduk would deliver a double show at Thronefest, one could have thought they had a greater concept for this effort – maybe creating a show with only classics on one day and focusing on newer material the next. However, visitors were treated to two full shows with different setlists, showcasing the best of all their albums. After a longer pause, the band, led by Mortus on vocals, hit the stage and engulfed the Kubox with their powerful sound, starting with "On Darkened Wings" from the "Those of the Unlight" album released in 1993 and then jumping to newer tracks with the title song from their 2018 output, "Viktoria."
With an atmospherically tight show, the veterans on stage did not fail to deliver what the audience sought after: Marduk's killer songs and strong live performances that drained the crowd of their last ounce of energy. Iconic Mortus delivered hit after hit, from "Plague Angel" 's "The Hangman of Prague" and "Throne of Rats" to another classic, "The Sun Has Failed." - thus, the band truly provided a nice survey of their entire body of work, including some songs they had not played in a long time or that are not normally included in their live set. It was a welcome opportunity for them to play those songs live once again!
Ending with the extreme tour de force that is "Panzer Division Marduk," the band left the stage, leaving only scorched earth in their wake. What a ride for day 1! Visitors who attended both days of the festival would undoubtedly leave with a smile on their faces, knowing they were bulldozed by the first show and would be bulldozed again the following day by the relentless force of Marduk.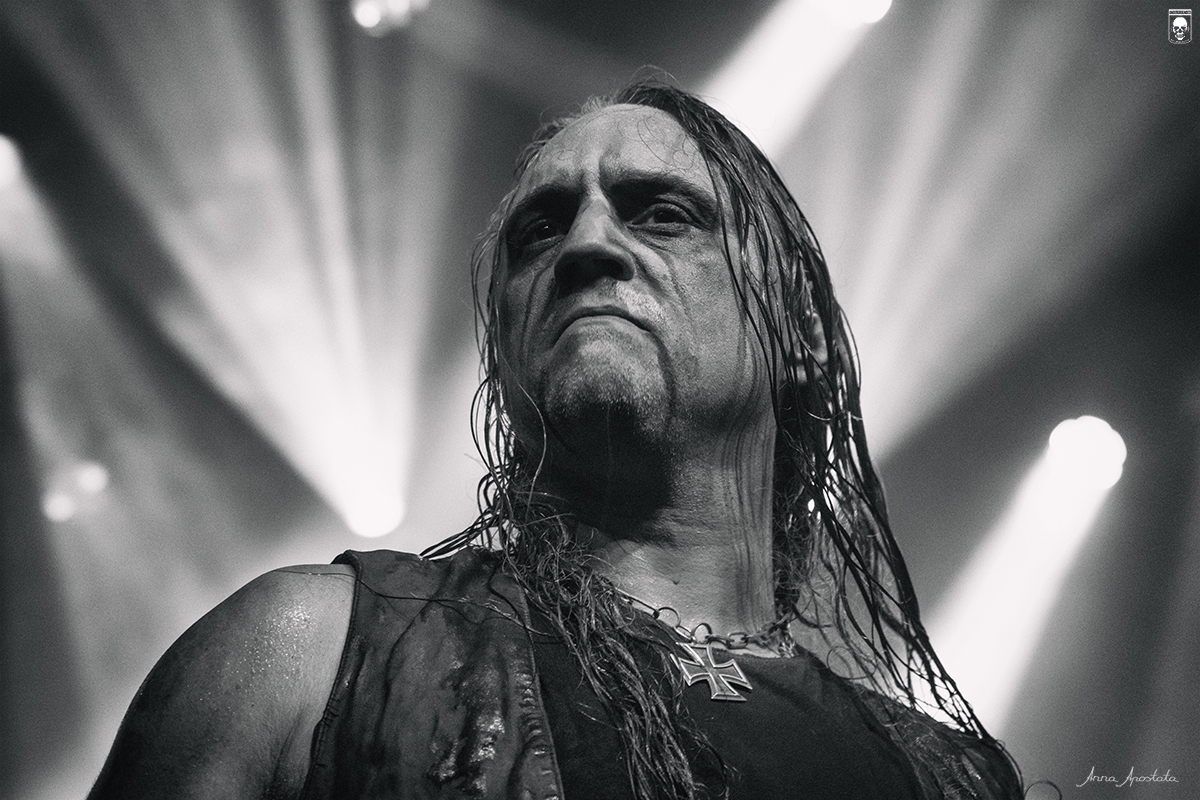 Day 1 of Thronefest in Kuurne delivered a thrilling and intense experience for black metal enthusiasts. It was a mix of highs and lows. While the smaller bands like Streams of Blood and Heinous -besides almighty Marduk- undoubtedly stole the show with their intense performances, the underwhelming performance by Impaled Nazarene left some kind of a void. Yes, there were technial difficulties that the band is not to blame for, but the overall experience was a disenchanting one. Hoping for more intense moments on Sunday we headed to our Hotel room crossing our fingers that Marduk would have their merch up the next day. Spoiler alert: They didn't. :(
Day 2
Lebenssucht from Germany kicked off day 2 of Thronefest 2023. People who were not familiar with the band may have been completely stunned by their furious entrée - attendees who arrived at the Kubox early were treated to a remarkable opener. It should be noted that while the band is based in Germany calling the band a German outfit is only half the truth - some of the members come from Saxony's capital of Leipzig, while drummer Arnaud "Ahephaim" Vansteenkiste hails from Belgium, and Chris "Basmu" Gebauer on bass was born in Australia.
Lead singer S. Caedes stood out with her "bloody doll" appearance and as the only female frontwoman in the entire Thronefest lineup. She wore a Victorian-era dress drenched in blood, haunting the stage barefoot. With three people handling vocals (guitarist Irleskan and Basmu on bass contributing additional growls), their performance and overall sound were truly special among all the acts at the event. While our team was taken aback by their early sledgehammer-ish onslaught, some may argue that it was "too much" in terms of theatrical portrayal. However, with pieces like "Until We Die" from their 2016 debut EP aptly named "Fucking My Knife," and "Hole In My Heart" from their 2020 full-length album "-273,15°C," they easily left a strong impression.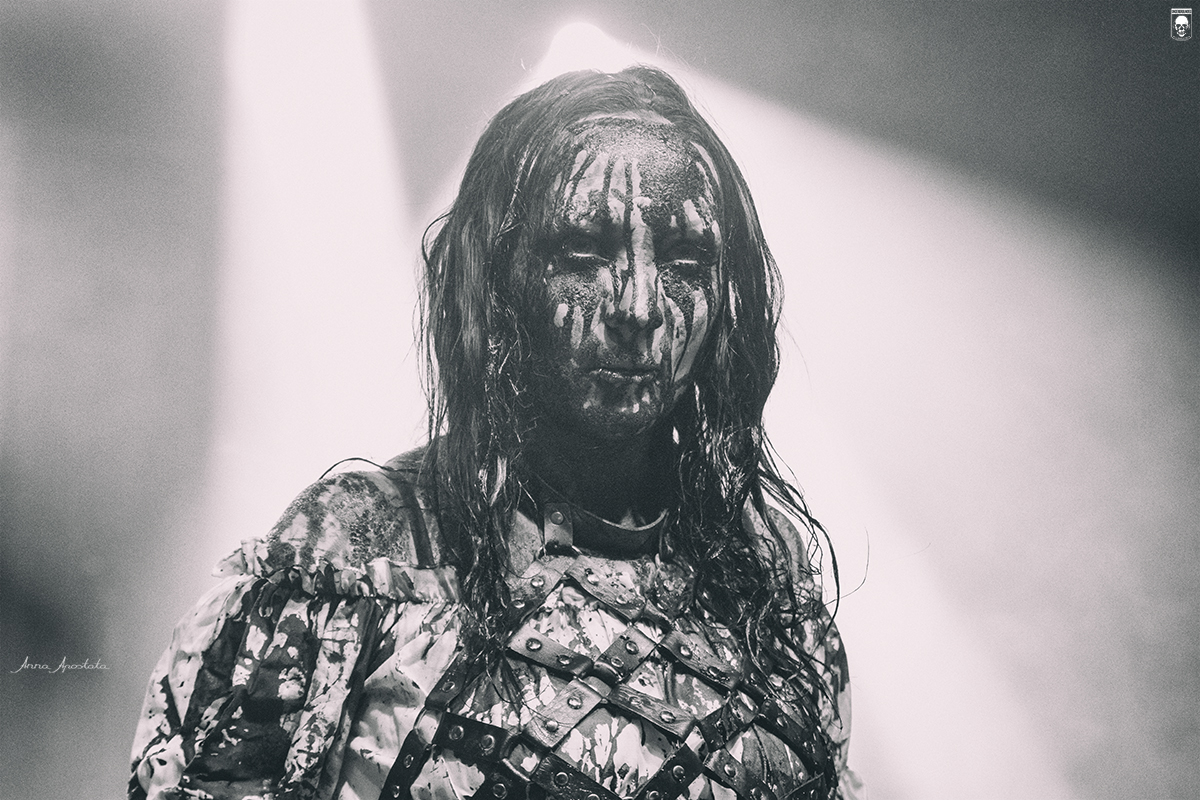 Lebenssucht / Anna Apostata
Next up were Wrang from the Netherlands - with the performance of Nevel's and Sarastus' Galgenvot on vocals, which came as an afternoon wake-up call, the band boasting talented musicians from for example Grafjammer and Wesenwille, among others, quickly expelled every last feeling of tiredness in the crowd. Speedy Black Metal luridness, merciless prowess, and an astounding drive - those are the qualities that best describe their show. Wrang's highly acclaimed 2022 album "De vaendrig" was presented almost in its entirety and captivated the audience within seconds, even though there were some inconsistencies in the sound. The guitars felt more pressing and the vocals more cutting on record. However, these imperfections served to enhance their rough appearance and became irrelevant in regard to their unpolished, crude Black Metal brawl.
After the furious gig, our team had to visit their small merchandise table directly to add their latest output to our vinyl collection, as it was only released in the weeks before via Dominance of Darkness Records. With live expertise from versatile Wesenwille's Ruben Schmidt on guitars, Wrang showed that they have the potential to become a force to be reckoned with in the future. We highly recommend seeing them live, for example, at the upcoming Misþyrming/Darvaza tour in November!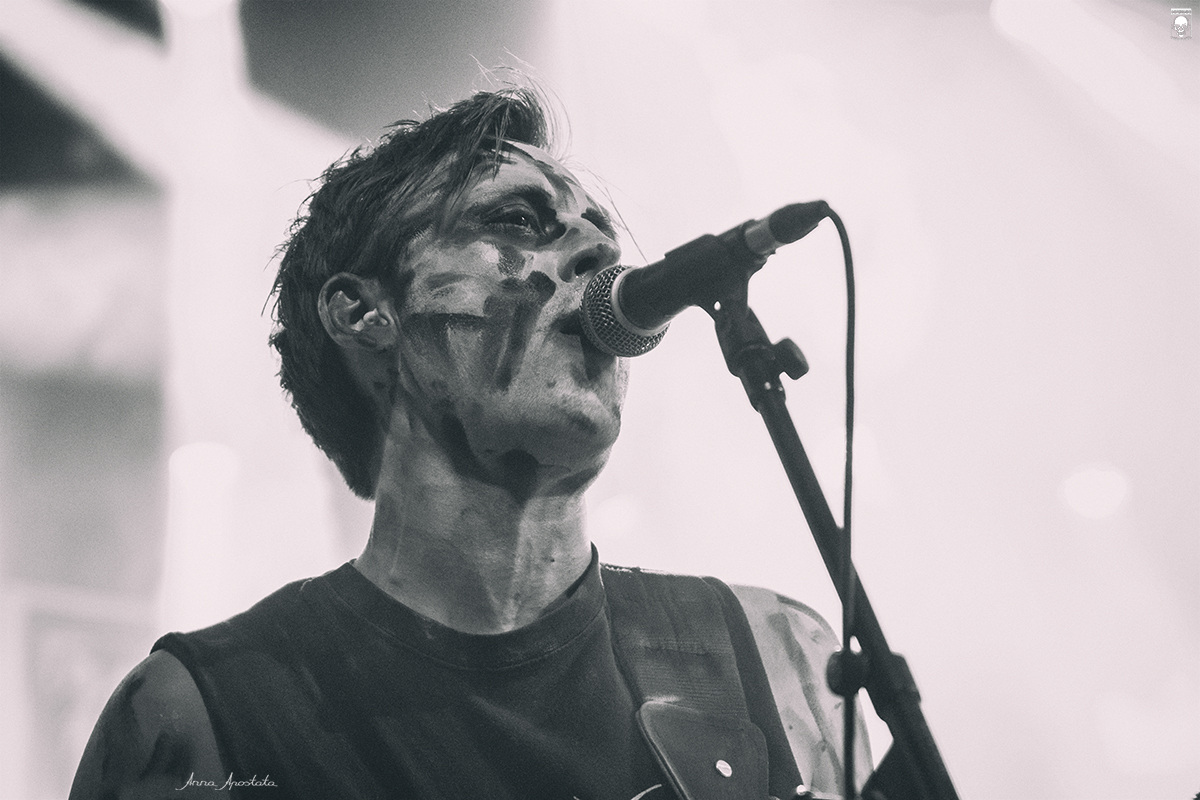 Thy Light came as a decelerating respite amidst the madness of the other acts. When the hooded figures surrounding Brazilian musician Paolo Bruno stepped onto the stage, it suddenly got quieter and a hush fell over the Kubox. The DSBM outfit created a reverent atmosphere with their opening piece "Infinite Stars thereof", which alone spanned more than the first 15 minutes of their set, and then delved into songs from their first demo "Suici.de.pression", which already dates back to 2007. The devoted cult following of the project definitely got evident in the fact that a sizable crowd clustered together in the hall to witness their performance. Thy Light keep their live appearances to a minimum and only had their debut at last year's Sinister Feast in Austria.
However, the emotional journey was a welcomed and deeply striking one, if one already knew the songs, commiserating and empathizing with the bitterness that is expressed through the vocals and the whole setting Thy Light created - if unfamiliar with their opus, all of this may have just bounced off from their audience and may have failed to resonate. Our team was convinced that to fully immerse yourself in songs like "In My Last Mourning..." you would have to have brought a certain vulnerability with you. We were also grateful they did not perform in broad daylight (looking at you, Zappenduster 2023 in August! Please, do not let a band like this have their gig during an afternoon sunbath!). This was a profound emotional meditation, despite some sound issues can not be overlooked here, either, as especially the drum sound was very bad.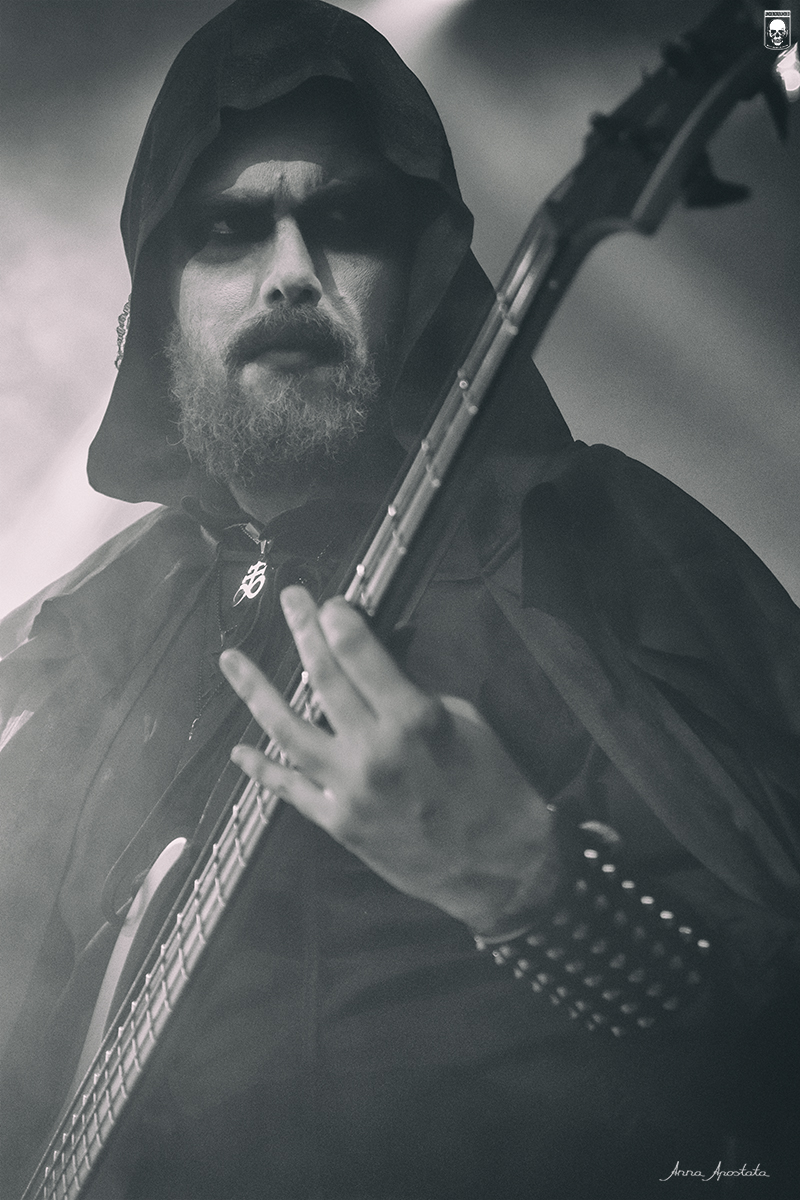 Thy Light / Anna Apostata
Misþyrming from Iceland, growing increasingly famous, took the stage next, and once again the crowd embraced their harsh Black Metal sound and their highly creative, albeit exuberant songs. Their new album, "Með hamri," was just released in December '22, and their level of prominence has undeniably risen immensely in recent years, as evident by the sizeable audience they managed to gather. They maintained a similar setlist from their recent small tour with Kringa in January/February and their previous festival appearances. It was an interesting contrast for our team to witness their performance at Tallinn's Howls of Winter in the smaller Rock Club Tapper compared to the larger venue at Throne Fest. The Icelandic musicians consistently create an intense atmosphere, regardless of the audience size, and their expansive and epic songs resonated even more powerfully on a stage like this. On the other hand, songs like the compelling "Söngur heiftar" feel more imposing and impactful when experienced in close proximity to the musicians.
It is worth mentioning that observing Mr. D.G. on vocals and guitars prompts a certain thought to intrude upon the audience: it is rare to witness such dedication and a trance-like state during live concerts. Their highly acclaimed releases have propelled Misþyrming to the forefront of their home country's metal scene. Songs such as the new "Með harmi" and "Ísland, steingelda krummaskuð" mesmerized the audience, and the Icelandic band delivered a sharp and flawless performance. There were even voices suggesting that if it weren't for another hellride with Marduk, some might have left at this point, as it would have been hard to imagine the experience getting any better. It is also worth mentioning that D.G. only once spoke directly to the crowd at Throne Fest: "Put away your fucking phones and enjoy the show."
No need for further comments.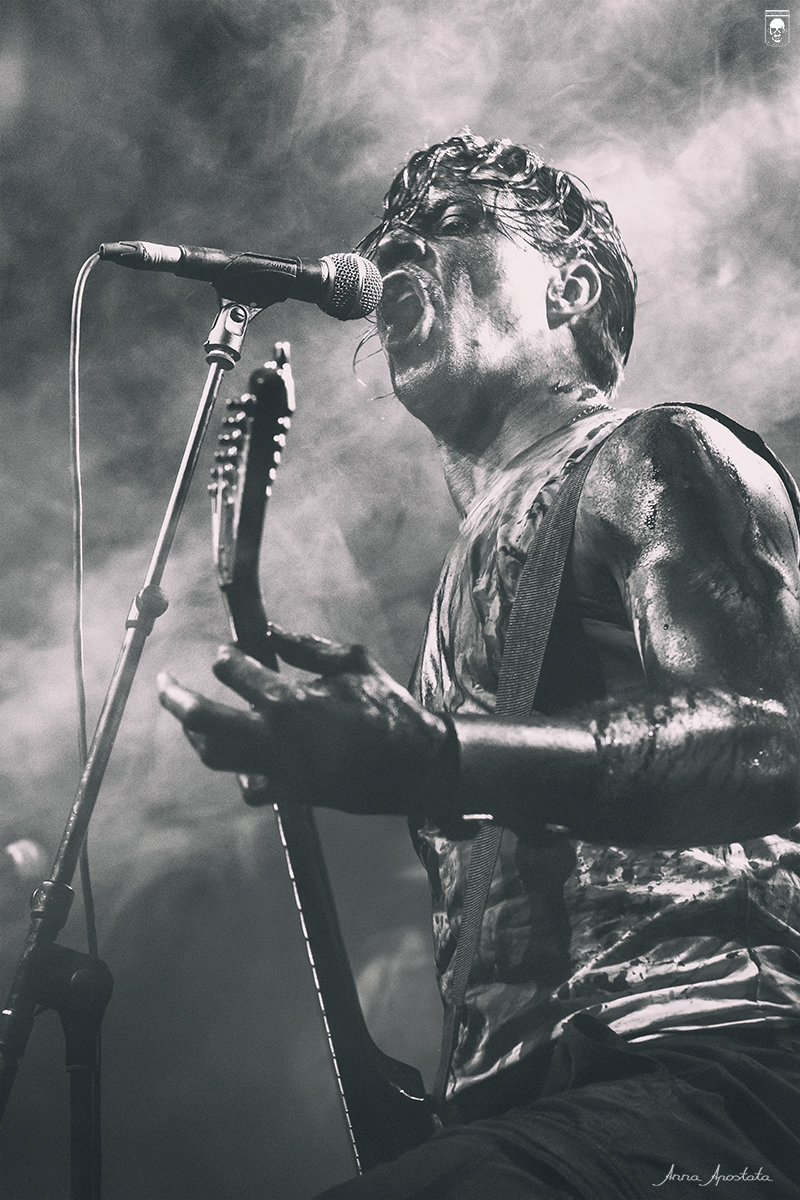 Misþyrming / Anna Apostata
When the Australian project Austere announced after the pandemic, that they would finally opt for bringing their music onto the stage, fans of their early 2000 outputs were overwhelmed with gratitude. The duo, comprised of Tim Yatras and Mitch Keepin, collaborated with Eklatanz from Heretoir and Paolo Bruno from Thy Light, having their live debut in 2022 at Romania's Dark Bombastic Evening. Subsequently, they also presented their music at last year's edition of Prophecy Fest in the enchanting cave of Balve in the German Sauerland region. However, it must be stated upfront that our team was already disappointed by their performance back then, and while their appearance at this year's Throne Fest was an improvement, it still fell short of capturing the captivating emotional balancing act that their pieces, particularly those from 2009's "To Lay Like Old Ashes," evoke on their studio records. There is a variety of reasons.
First and foremost, Mr. Sorrow, handling the drums and delivering the shrieking vocals, failed to reach the same intensity and pitch that makes tracks like "This Dreadful Emptiness" so captivating. Performing vocals while seated behind a drumset is undoubtedly a challenging task, and live vocals don't always replicate the studio recordings exactly, either. However, when you intimately know certain songs, forge a strong emotional connection with them, and find yourself struggling to even recognize which songs are being played even after careful listening, something feels odd and wrong. Sound-wise, Prophecy Fest provided a better experience, and Mr. Yatras delivered a better vocal performance this time around. Nevertheless, despite the undeniable massive talent of the musicians, especially in the other projects they are involved in, our hopes of witnessing Austere's full emotional impact on the live stage were once again shattered, at least for our team.
It is important to note that the disappointment lies not only with the band themselves, but also with the difficulties and challenges of translating their intricate soundscapes into a live setting. Also, their set started with new songs from their album "Corrosion of Hearts", that also transport the band's early bitterness and possess a unique emotional depth. With "Sullen" and "A Ravenous Oblivion", however, the crowd got more excited when the first notes of older pieces resonated through the venue. As the final haunting notes of "Just For A Moment..." faded away, the band abruptly left the stage, denying the audience some form of closure. Sadness hung in the air, with shattered high hopes leaving some attendees looking at each other. Was that it? Was that Austere, the band whose appearance so many people eagerly awaited?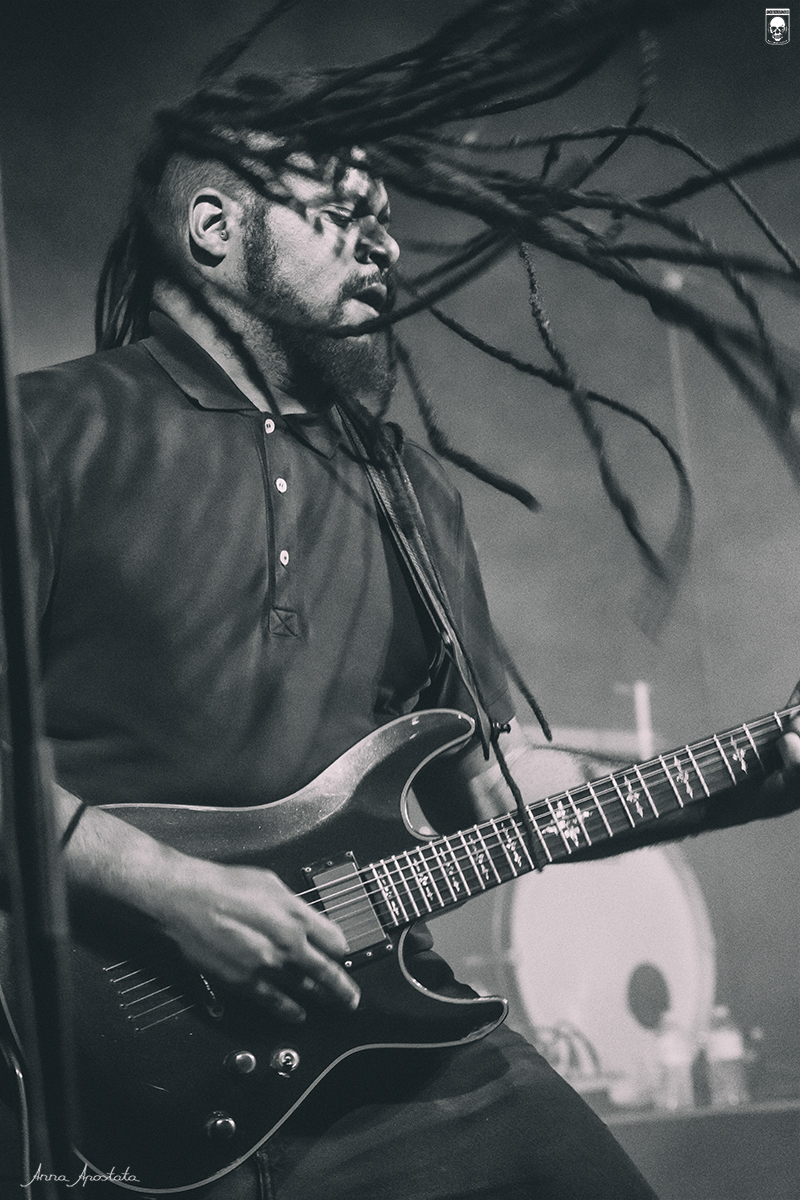 Part 2 of Marduk's military campaign came with a slight delay but brought forth a selection of older pieces that hadn't been performed in quite some time, reminiscent of the first day. The hellride commenced with the opening track "The Levelling Dust" from "Rom 5:12" and unleashed an unrelenting onslaught of sonic devastation. From the infamous "Panzer Division Marduk" album, they delivered the audio carnage of "Baptism by Fire" and continued to unleash their merciless assault with "Frontschwein," while also delving into their 90's era with "Beyond The Grace Of God."
One of the standout moments during Marduk's Sunday show was the debut of a new piece titled "Blood on a Funeral." This track can only be described as a relentless spiral of rhythmic barrage, infused with captivating guitars, wickedly malevolent lyrics, and the unique drive that guarantees becoming a hit with the fans of the Swedes. Seeing a double show one can only put an emphasis on how great of a frontman Mortuus is, showcasing a strong stage presence, having in control everything and being the core of what's going on on stage. This was an outstanding performance, unlike the first chapter the day before, especially with fan favorite songs like "The Blond Beast" and another final explosion with "Panzer Division Marduk" (why change the final song when you have this beast of a track in your portfolio?).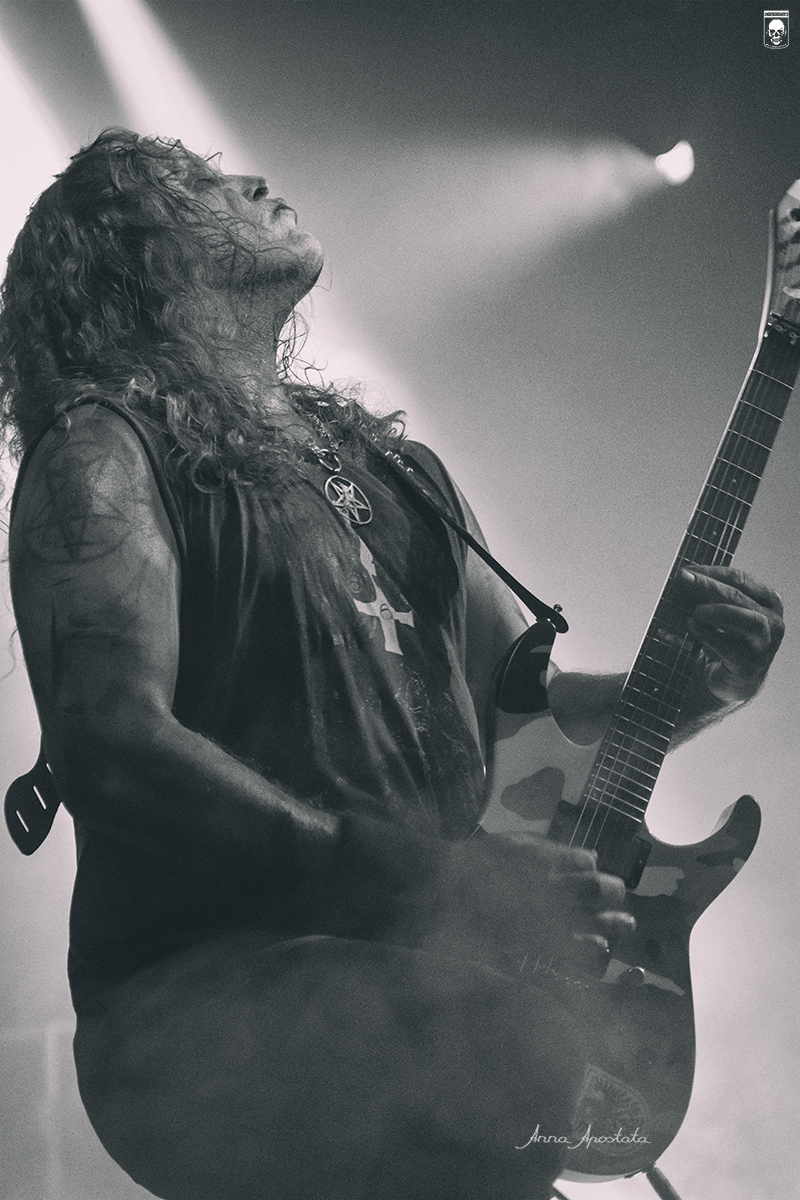 Final show of 2023's Throne Fest was delivered by French Black Metal Shoegazers Alcest surrounding the charismatic Neige. After the drumfires of Marduk and other pressing acts in the billing of Sunday, having the event end with the emotional, sometimes dreamy soundscapes of Alcest provided a much-needed tranquillity. As a stark contrast to Marduk's brutal assault, as soon as they left the stage and carpets were rolled out everyone knew that now the harsh parts of the event were over. Opening with two pieces from 2019's "Spiritual Instinct", still their latest output, they enchanted the audience in the Kubox in a manner of seconds. While "Les jardins de minuit" and "Protection" already offer some escapism, songs like "Ècailles de lune-Part 2" with some shrieking vocals, "Autre temps" or "Oiseaux de proie" did not fail to resonate, either.
Watching Alcest live is not just an emotional and hypnotizing experience; it also showcases the incredible talents of the musicians, particularly in the longer instrumental passages of their songs. Additionally, their genuine happiness and gratitude are evident, creating an atmosphere of warmth and appreciation throughout their performance.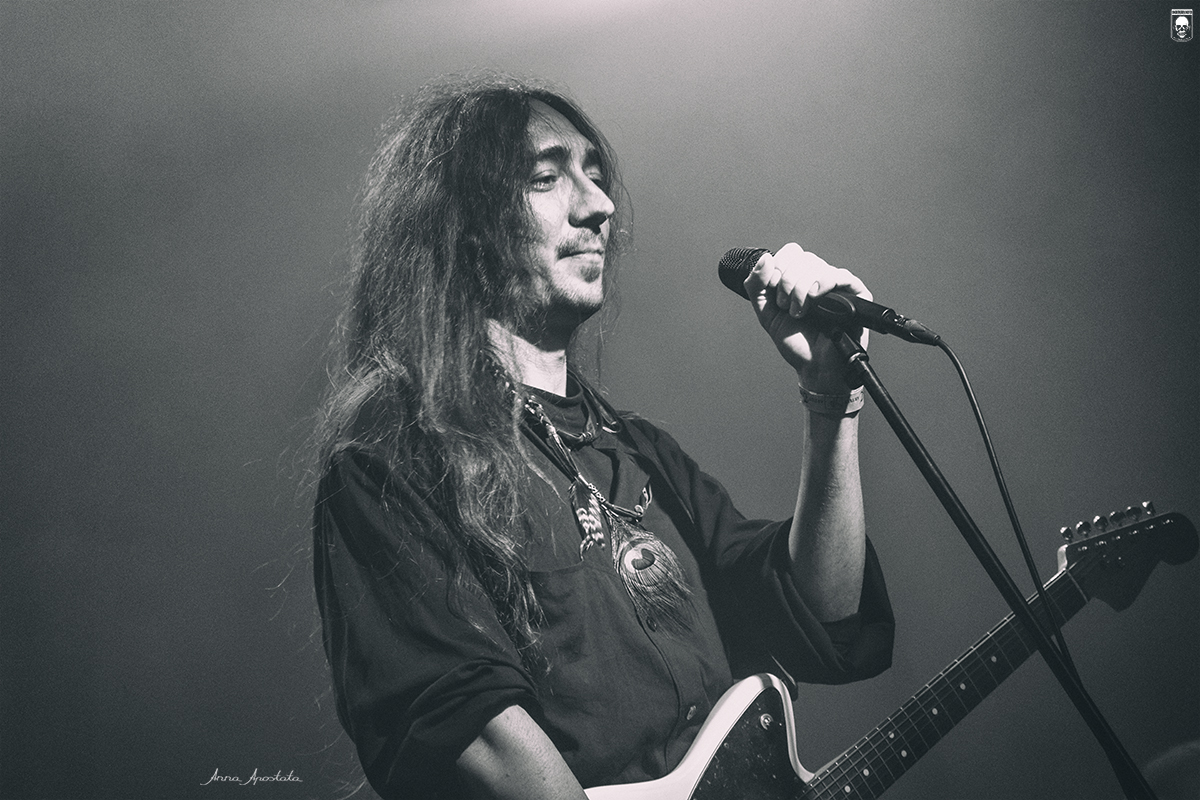 Addendum: Our revered readers may have seen we did not include German WW1 Black/Deathers Kanonenfieber in our review. As Undergrounded did not yet speak about any of their releases, we decided not to comment on their live shows either. While they seemed to be welcomed very well in the neighboring states to Germany -also at Belgium's Thronefest-, our team has chosen to refrain from any coverage due to the controversy that surrounded them especially in the beginning, when their debut was released.